Glenn's 1974 Volkswagen Beetle
It's a "Sleeper"
click on picture for a large view (1024x768)
General Info: 2 Door Sedan, Air Cooled, Rear Engine and Transaxle

Original Owner - Glenn Ring
Mileage - 472,000 miles
Production Date - February 25th, 1974
Delivery Date - March 15th, 1974
Purchased Date - April 10th, 1974
Model Number - 113 841
Chassis Number - 114 2 530 976
Engine Number - AH 372 431 (original engine)
Color Code: G9 G9 50
Exterior - African Red - code L31A, PPG Deltron DG Urethane
Interior - Black - code 50
Options - Rear Window Defroster (required in New York State)
Engine Specs: Type 1, 2180cc, horizontally-opposed 4 cyl, balanced

Compression Ratio - 9.5:1 (92x82, 56cc head, .057" deck)
Case - Volkswagen, AS41 (German), dual releaf, 8mm studs, case saver inserts, deep #3 studs, tapped for full flow oil system, stress relieved, deburred, blue printed
Crankshaft - 4340 Forged Chromoly, 82mm, forged, counterweighted, balanced, nitrided, 8 dowel (11/32"), stress relieved, shot peened, Buick journals
Connecting Rods - CB Performance H Beam, 5.4", ARP 2000 bolts, magnafluxed, balanced, Clevite 77 rod bearings
Pistons/Cylinders - AA, 92mm, Thick Wall, forged pistons, balanced
Camshaft - Engle FK-8, 298° duration / .382" lift (.535" with rockers)
Heads - Steve Tims, Stage 2, 42x37.5, ported, polished, 56cc chambers
Valves - Stainless steel, 42mm intake, 37.5mm exhaust, tappered guides
Rocker Arms - CB Performance 1.4 ratio, forged, needle bearings, heavy duty studs
Valve Train - Manton dual springs, Manton 3/8" chromoly push rods, Chromoly retainers, Wizemann lifters w/ SLR treatment
Induction - 2 Weber 48 IDA dual throat carbs with Uni filters, 155 main, 65 idle, F11 emulsion tubes, 37mm vents
Carb Linkage - Gene Berg GB-453, fan mount linkage
Intake Manifold - Generic (tall), match ported, polished
Exhaust System - Gene Berg GB-933S 1-5/8" merged, GB-971A-2SM dual muffler, Jet-Hot ceramic coated
Lubrication - Gene Berg GB-233A oil pump (26mm gears), Gene Berg full flow oil kit, Canton Mecca remote filter, Berg 1.5 quart deep sump, Type 1 cooler, steel braid teflon hose, Brad Penn 10W-30 Racing Oil
Cooling - Volkswagen, 1973 Type 181 dog house fan housing (no fresh air), Berg late model fan (welded + balanced), all OEM tin including the "Hoover Bit", flaps and thermostat.
Clutch / Disc - KEP, 200mm Stage I (1700 lb.) pressure plate (balanced), ACE "Copperhead" disc
Flywheel - VW, forged, 8 dowel (11/32"), 12.5 lb., forged gland nut, balanced, wedge mated
Pulley - Gene Berg GB-439 "Equalizer" billet steel pulley, 3.5 lb., balanced
Alternator - Bosch AL78X, heavy duty
Starter - IMI High Torque (534 ft-lbs.), Bosch relay directly wired to the battery
Ignition - Bosch 010 distributor, Bosch Blue Coil (German), Beru Silicone Copper Core wires and NGK BCP6ES spark plugs (indexed, spark plug gap .028")
Misc. - GB-207 breather box, Stainless Steel pushrod tubes, steel braid mechanical oil pressure line, battery quick disconnect, Crankshaft/flywheel/clutch/pulley/rods/pistons were dynamically balanced as a complete assembly
Transaxle Specs: Type 1, Gene Berg 5 Speed Manual, IRS

Builder - Gary Berg
Case - Volkswagen "Rhino" case, heavy duty side covers
Mounts - Gene Berg GB-642P heavy duty rear mounts and Gene Berg GB-643F front crossmember
Gear Ratios - Close ratio 1st, 2nd, 3rd, 4th and 5th, steel shift forks, hardened keys
1st - 3.78:1 (heavy duty)
2nd - 2.06:1 (stock)
3rd - 1.58:1 (welded hub)
4th - 1.21:1 (welded hub)
5th - 0.82:1 (welded hub)
Rev - 3.61:1
Differential - ZF, Limited Slip (LSD) with 4 spyder gears (11 tooth) (rebuilt by Bruce Tweddle)
Ring / Pinion - 3.875:1 ratio, 8 bolt, Gene Berg GB-660K-3875 (Klinkenberg), cryo
Shifter - Gene Berg GB-5710 5 speed shifter w/ old style Berg "Finger Grip" handle, new shift rod bushing and coupler
Axles - HD C/V joints with Sway-A-Way Axles
Misc. - heavy duty cross shaft (welded), GBE Super Duty Pinion Bearing Retainer, hardened key, steel shift forks, Berg Pro sliders
Lubrication - Valvoline VV832 Gear Lube, 80-90W API GL-5 and MT-1 rated
Suspension Specs: IRS - Ball Joint / 4 Wheel Independent

Front Beam - VW (German), Gene Berg AVIS adjusters, Ghia spindles (adjustable, lowered 3")
Rear Trailing Arms - Sway-A-Way Adjustable Spring Plates
Antiroll Bars - Sway-A-Way 19mm front and 25mm rear, urethane mounts
Shocks Front - KYB GR2, low pressure gas, Opel GT (shorter for lowered beam)
Shocks Rear - KYB GR2, low pressure gas, stock length
Brakes Front - Volkswagen, Type 3 calipers (ATE) and Brembo rotors, Mintex pads, Aeroquip steel braid hose
Brakes Rear - Volkswagen, Ate drums, Mintex shoes
Wheels - Porsche/Pedrini, 914 Aluminum alloys 5.5x15
Tires - BF Goodrich g-Force Sport, 195/55VR-15 front and 205/60VR-15 rear
Miscellaneous

Seats - Recaro KR sport seats, recovered with Arvus fabric
Seat Belts - Schroth Rally, 4 point, TUV approved
Headlights - Cibie Z Beams with H4 55/60 watt bulbs
Gauges - 100 mph speedo, 8000 rpm tach, 100 psi oil pressure, oil temp and clock
Misc. - Berg Rear Engine Support Bar (Traction Bar), Berg Transmission middle cross member
Fire Ext. - Halotron I, class 10BC, DOT, USCG and FAA approved
Weight Reduction - Rear Seat removed, factory undercoating replaced with light weight undercoating
Impressions

It's very fast in a straight line and handles the curves like a sports car.
It drives the boys in the pony cars crazy.
The only drawback is that its a bit noisy, but after all it was originally designed in the 1930's.
The best thing is whoever you meet, they either had a Bug or have a story to tell.
The kids think its very cool.
---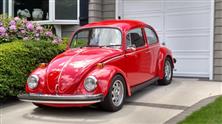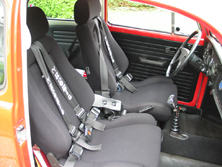 Click on any picture for a larger view (1024x768).
---
---
To see a picture of my car that was in Hot VWs magazine's coverage of the Connecticut Bug-A-Fair show and pictures from other shows click here.
---
Visit my Restoration Site
To see step by step how i restored this car, including many pictures, click here.
---