Glenn's 1974 Beetle Restoration
Body Shop - Part 1
I am NOT a body man. So I realized that this is one area that I am going to need a professional. Most body shops are not interested in restorations. They take too long, are too much work and tie up too many resources.

VW Beetles are not like all other cars, so you need someone who's done this before. I picked Charlie Kiesel of Hy-Tone Auto Body. I've known Charlie for 15 years and he's done quite a few VW's before. He also is one of the few who are willing to do a restoration like this. There is one rule to live by when doing a job like this. Time... Most body shops make their money by doing insurance claims. You know, fender benders. A restoration is a way for the shop to fill in their spare time. I knew it was going to take awhile (11 months to be exact). Charlie and I both knew the rules. I gave him some seed money to get him started. I would supply all the needed parts. He would repair the car to my expectations. I knew I could not rush him.

On August 19, 1997 he towed the car away. Over the next month he removed some of the undercoating and examined the car very carefully. It was in worse shape than we first thought. In October I went to the shop to talk about the condition of the car.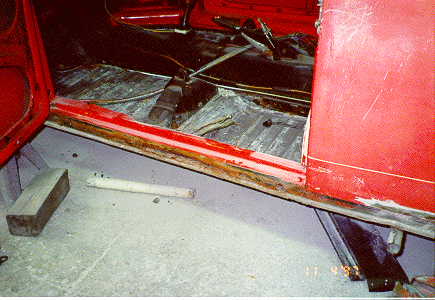 As expected. The heater channel is rotted
Even on the inside. It has to be replaced
All 4 fenders were either rusted, rotted or in general poor condition. We felt that it would be better to replace them. I was able to get 4 NOS fenders that were in excellent condition. The left side heater channel was rotted through and need to be completely replaced. The right heater channel was in better condition and only needed the outside panel replaced. A number of fender mounts had to be replaced. Both lower 1/4 panels needed to be replaced. Some 20 year old body work had to be redone and the nose needed to be straightened. I wanted the car stripped to bare metal and painted the original color of African Red. This would be done by media blasting the car with plastic pellets.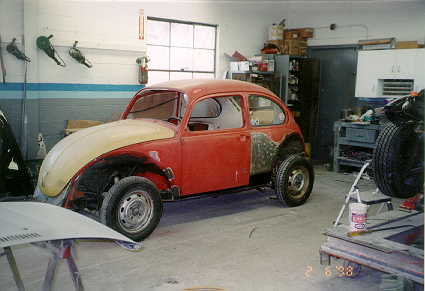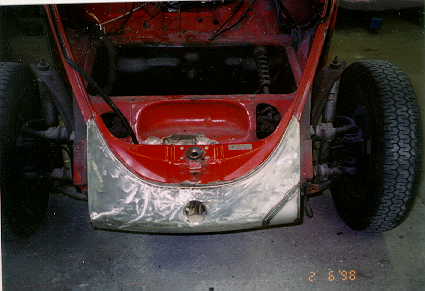 Too many parking lot stones took their toll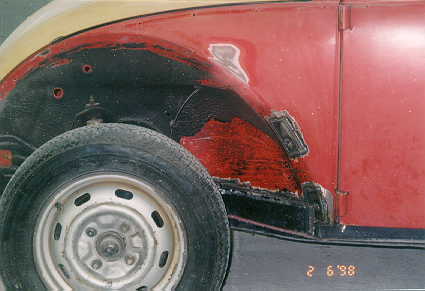 Here's a shot of the repair of the inner fender well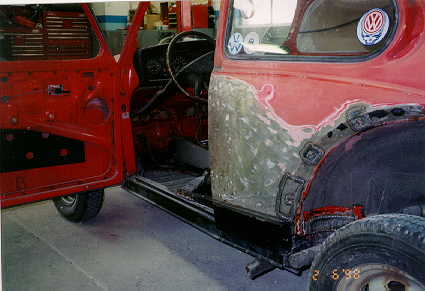 That's 20 year old damage finally being fixed the right way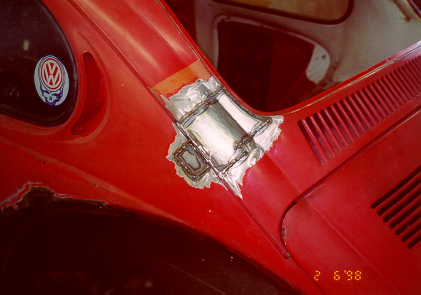 At first this was a rust spot about ¼" in diameter. You can see what it took to fix it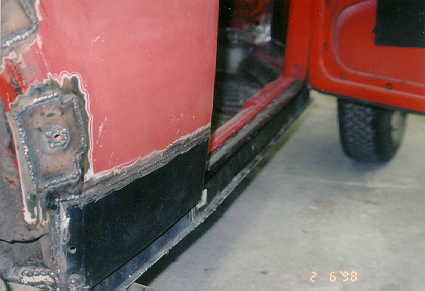 Both lower ¼ panels had to be replaced along with a number of fender bolts
---


Back to main restoration page